miércoles, 6 de noviembre de 2013
Daniel Defoe
From The Oxford Companion to English Literature, ed. Margaret Drabble.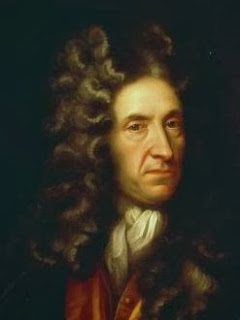 DEFOE, Daniel (1660-1731), born in London, the son of James Foe, a butcher. He changed his name to Defoe from c. 1695. He attended Morton's academy for Dissenters at Newington Green with a view to the ministry, but by the time he married Mary Tuffley in 1683/4 he was established as a hosiery merchant in Cornhill, having travelled in France, Spain, the Low Countries, and possibly Italy and Germany; he was absorbed by travel throughout his life. He took part in Monmouth's rebellion, and in 1688 joined the advancing forces of William III. His first important signed work was An Essay upon Projects (1697), followed by The True-Born Englishman (1701), an immensely popular satirical poem attacking the prejudice against a king of foreign birth and his Dutch friends. In 1702 appeared The Shortest Way with Dissenters, a notorious pamphlet in which Defoe, himself a Dissenter, ironically demanded the total and savage suppression of dissent; for this he was fined, imprisoned (May-Nov. 1703) and pilloried. While in prison he wrote his Hymn to the Pillory, a mock-Pindaric *ode which was sold in the streets to sympathetic crowds. Meanwhile various business projects (the breeding of civet cats, marine insurance, a brick works) had come to grief, and Defoe's fortunes were revived by Harley, the Tory politician, who arranged a pardon and employed him as a secret agent; between 1703 and 1714 Defoe travelled around the country for Harley and Godolphin gathering information and testing the political climate. Defoe wrote many pamphlets for Harley, and in 1704 began the Review; in the same year appeared his pamphlet Giving Alms No Charity and in 1706 True Relation of the Apparition of One Mrs Veal, a vivid report of a current ghost story, probably by Defoe. Certain anti-Jacobite pamphlets in 1712-13 led to his prosecution by the Whigs and to a brief imprisonment. He now started a new trade journal, Mercator, in place of the Review. In 1715 he was convicted of libelling Lord Annesley (by implying that he was a Jacobite); he escaped punishment through the intervention of Townshend, the Whig secretary of state.

Defoe was an extremely versatile and prolific writer, and produced some 250 books, pamphlets, and journals, many anonymously or pseudonymously, but the works for which he is best known belong to his later years. *Robinson Crusoe appeared in 1719, the Farther Adventures following a few months later. The next five years saw the appearance of his most important works of fiction: Captain *Singleton in 1720, *Moll Flanders, A Journal of the *Plague Year, and *Colonel Jack in 1722; *Roxana, the *Memoirs of a Cavalier (now considered to be certainly by Defoe), his tracts on Jack *Sheppard, and A New Voyage round the World in 1724; The Four Voyages of Capt. George Roberts in 1726. His Tour through the Whole Island of Great Britain, a guidebook in three volumes (1624-26), is a vivid first-hand account of the state of the country, gleaned from his many travels, the last of which he appears to have taken in 1722. His last principal works were The Complete English Tradesman (1726), Augusta Triumphans (1728), A Plan of the English Commerce (1728) and The Complete English Gentleman, not published until 1890. He died in his lodgings in Ropemaker's Alley, Moorfields, and was buried in what is now Bunhill Fields. Defoe's influence on the evolution of the English novel was enormous, and many regard him as the first true novelist. He was a master of plain prose and powerful narrative, with a journalist's curiosity and love of realistic detail; his peculiar gifts made him one of the greatest reporters of his time, as well as a great imaginative writer who in Robinson Crusoe created one of the most familiar and resonant myths of modern literature. Important work on the Defoe canon by P. N. Furbank and W. R. Owens includes The Canonisation of Defoe (1988), Defoe De-Attributions (1994) and A Critical Biography of Daniel Defoe (1998).


The Review, a periodical started by *Defoe in 1704, under the title of A Weekly Review of the Affairs of France, which after various transformations became A Review of the State of the British Nation in 1707, it lasted until 1713. It was a non-partisan paper, an organ of the commercial interests of the nation: it appeared thrice weekly and was written, practically in its entirety, by Defoe himself, who excpressed in it his opinions on all current political topics, thus initiating the political leading article. It also had lighter articles on love, marriage, gambling, etc.: Defoe's attitude to his readers was that he strove to 'wheedle them in (if it may be allowed that expression) to the knowledge of the world; who, rather than take more pains, would be content with their ignorance, and search into nothing'.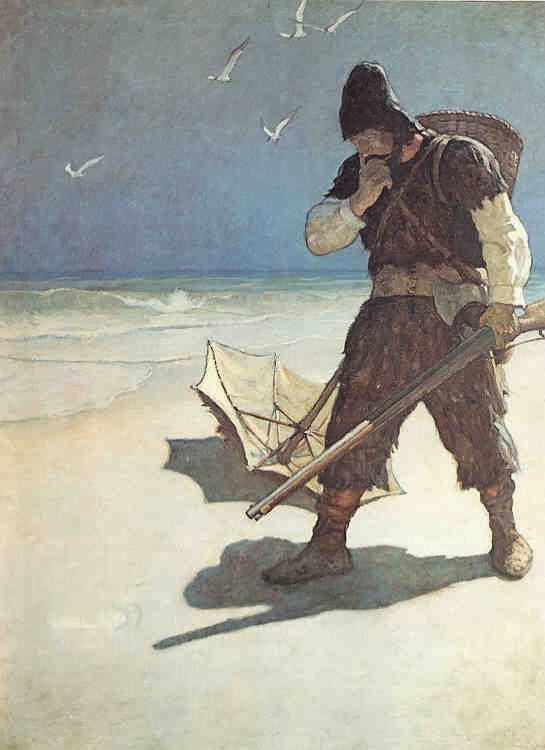 The Life and Strange and Surprising Adventures of Robinson Crusoe, a romance by *Defoe, published 1719.

In 1704 Alexander Selkirk, who had run away to sea and joined a privateering expedition under *Dampier, after a quarrel with his captain was put ashore on the uninhabited island of Juan Fernández. He was rescued in 1709 by Woodes *Rogers. Defoe was probably familiar with several versions of this tale, and added many incidents from his own imagination to his account of Crusoe, presenting it as a true story. The extraordinarily convincing account of the shipwrecked Crusoe's successful efforts to make himself a tolerable existence in his solitude first revealed Defoe's genius for vivid fiction; it has a claim to be the first English novel. Defoe was neraly 60 when he wrote it.

The author tells how, with the help of a few stores and utensils saved from the wreck and the exercise of infinite ingenuity, Crusoe built himself a house, domesticated goats, and made himself a boat. He describes his struggle to accept the workings of Providence, the perturbation of his mind caused by a visit of cannibals, his rescue from death of an indigenous native he later names Friday, and finally the coming of an English ship whose crew are in a state of mutiny, the subduing of the mutineers, and Crusoe's rescue.

The book had immediate and permanent success, was translated into many languages, and inspired many imitations, known generically as 'Robinsonades', including *Philip Quarll, *Peter Wilkins, and *The Swiss Family Robinson. Defoe followed it with The Farther Adventures of Robinson Crusoe (1719), in which with Friday he revisits his island, is attacked by a fleet of canoes on his departure, and loses Friday in the encounter. Serious Reflections . . . of Robinson Crusoe . . . with His Vision of the Angelick World, which is more a manual of piety than a work of fiction, appeared in 1720, and was never as popular. The influence of Robinson Crusoe has been very great. *Rousseau in Émile recommended it as the book that should be studied by a growing boy, *Coleridge praised its evocation of 'the universal man', and *Marx in Das Kapital used it to illustrate economic theory in action.

In recent years 'Man (later Girl) Friday' came to describe a lowly assistant performing a multiplicity of tasks.

In The Rise of the Novel (1957) and other essays ian Watt provides one of the most controversial modern interpretations, relating Crusoe's predicament to the rise of bourgeois individualism, division of labour, and social and spiritual alienation. See David Blewett, The Illustration of Robinson Crusoe, 1719-1920 (1995).


Adventures of Captain Singleton, a romance of adventure by Defoe, published 1720.

Singleton, the first-person narrator, having been kidnapped in his infancy is sent to sea. Having 'no sense of virtue or religion', he takes part in a mutiny and is put ashore in Madagascar with his comrades; he reaches the continent of Africa and crosses it from east to west, encountering many adventures and obtaining much gold, which he dissipates on his return to England. He takes once more to the sea, becomes a pirate, carrying on his depredations in the West Indies, Indian Ocean, and China Seas, acquires great wealth, which he brings home, and finally marries the sister of a shipmate.



The Fortunes and Misfortunes of the Famous Moll Flanders, a romance by *Defoe, published 1722.

This purports to be the autobiography of the daughter of a woman who had been transported to Virginia for theft soon after her child's birth. The child, abandoned in England, is brought up in the house of the compassionate mayor of Colchester. The story relates her seduction, her subsequent marriages and liaisons, and her visit to Virginia, where she finds her mother and discovers that she has unwittingly married her own brother. After leaving him and returning to England, she is presently reduced to destitution. She becomes an extremely successful pickpocket and thief, but is presently detected and transported to Virginia in company with one of her former husbands, a highwayman. With the funds that each has amassed they set up as planters, and Moll moreover finds that she has inherited a plantation from her mother. She and her husband spend their declining years in an atmosphere of prosperity and ostensible penitence.



A Journal of the Plague Year, a historical fiction by *Defoe, published 1722.

It purports to be the narrative of a resident in London during 1664-5, the year of the Great Plague; the initials 'H.F.' which conclude it have been taken to refer to Defoe's uncle Henry Foe, a saddler, from whom the author may have heard some of the details he describes. It tells of the gradual spread of the plague, the terror of the inhabitants, and the steps taken by the authorities, such as the shutting up of infected houses and the prohibition of public gatherings. The symptoms of the disease, the circulation of the dead-carts, the burials in mass graves, and the terrible sce
nes witnessed by the supposed narrator are described with extraordinary vividness. The general effects of the epidemic, notably in the closing down of trading and the flight from the city, are also related, and an estimate of the total number of deaths is made. The Journal embodied information from various sources, including official documents; some scenes appear to have been borrowed from *Dekker's The Wonderfull Yeare (1603). Defoe's subject was suggested by fears of another outbreak, following the one in Marseilles in 1721 which occasioned Sir Robert *Walpole's unpopular Quarantine Act. *Hazlitt ascribed to the work 'an epic grandeur, as well as heart-breaking familiarity'.


Colonel Jack, The History and Remarkable Life of Colonel Jacque, Commonly Call'd, a romance of adventure by *Defoe, published 1722.

The supposed narrator, abandoned by his parents in childhood, falls into bad company and becomes a pickpocket. His profession grows distasteful to him, he enlists, and presently deserts to avoid being sent to serve in Flanders. He is kidnapped, sent to Virginia, and sold to a planter. He is promoted to be an overseer, is given his liberty, becomes himself a planter, and acquires much wealth. He returns home and has a series of unfortunate matrimonial adventures, but finally ends in prosperity and repentenace.


Roxana, or The Fortunate Mistress, a novel by *Defoe, published 1724.

This purports to be the autobiography of Mlle Beleau, the beautiful daughter of Prench Protestant refugees, brought up in England and married to a London brewer, who, having squandered his property, deserts her and her five children. She enters upon a career of prosperous wickedness, passing from one protector to another in England, France, and Holland, amassing much wealth, and receiving the name Roxana by accident, in consequence of a dance that she performs. She is accompanied in her adventures by a faithful maid, Amy, a very human figure. She marries a respectable Dutch merchant in London and subsequently lives as a person of consequence in Holland. When one of her daughters appears on the scene in London, Roxana dares not acknowledge her, fearing that her past life will be revealed to her new spouse and her life of security will be ruined. When Amy says she will murder the girl, if necessary, to silence her inquiries about Roxana's identity, Roxana is filled with horror and relief. Both Amy and the girl disappear, and Roxana, miserable and apprehensive, is tormented by her conscience. Her husband discerns her iniquity and soon thereafter dies, leaving her only a small sum of money. In the company of her alter ego Amy, Roxana descends into debt, poverty, and remorseful penitence.


Memoirs of a Cavalier, a historical romance most probably by Defoe, published 1724.

The pretended author, 'Col. Andrew Newport', a young English gentleman born in 1608, travels on the Continent, starting in 1630 goes to Vienna, and accompanies the army of the emperor, being present at the siege and sack of Magdeburg, which is vividly presented. He then joins the army of Gustavus Adolphus, remaining with it until the death of that king and taking part in a number of engagements which he describes in detail. After his return to England he joins the king's army, first against the Scots, then against the forces of Parliament, being present at the battle of Edgehill, which he fully describes, the relief of York, and the battle of Naseby.