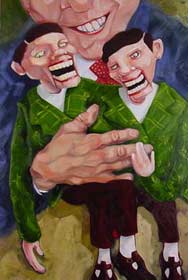 Comentario a las reglas de la BBC sobre blogs de empleados, que he conocido a través de Jem Stone, de la BBC; vía Denken Über y Tíscar.
BBC GUIDELINES ON EMPLOYEES WEBLOGS AND WEBSITES
These Guidelines apply to personal blogs and all other personal webcontent (e.g. personal podcasts). Official BBC content which uses blogging formats must be signed off by the relevant divisional interactive head.
Principles
Blogging is a form of public conversation on the internet, in which BBC people may wish to take part.
When a blogger clearly identifies themselves as a BBC person and/or discusses their work, the BBC expects them to behave well when blogging, and in ways that are consistent with the BBC's Editorial Values and policies.
O sea, que hay una división clara entre tres tipos de blogs:
- Blogs oficiales de la empresa
- Blogs de empleados que se autoidentifican como tales (ya sean blogs pseudónimos o blogs firmados por el autor)
- Otros blogs (blogs de empleados que no se autoidentifican como tales y blogs de no empleados).
El problema está en la frase "when a blogger clearly identifies themselves as a BBC person" - aparte de la gramática. Supongo que por el hecho de firmar con tu propio nombre, si trabajas para la BBC, ya te estás autoidentificando como una persona de la BBC - ¿no? Otra cosa divertida, el "and/or". ¿Se aplica sólo a los blogueros de la empresa?
Many bloggers, particularly in technical areas, use their personal blogs to discuss their BBC work in ways that benefit the BBC, and add to the "industry conversation". These guidelines are not intended to restrict this, as long as confidential information is not revealed.
Blogs or websites which do not identify the blogger as a BBC employee, do not discuss the BBC and are purely about personal matters would normally fall outside these guidelines.
Aquí la gramática es menos clara todavía. Ahora se entiende más bien que la identificación como persona que trabaja en la BBC se aplica únicamente al "blog o website" en cuestión, no a la actividad de la persona. O sea, que si un presentador conocidísimo monta un blog en el que no menciona que es empleado de la BBC… ¿queda excluido? ¿Qué son 'personal matters'? ¿Puede hablar de política (desde su punto de vista personal)? Está claro que estos 'personal matters' son materia de interpretación. Y veremos que no pueden hablar de casi nada relevante.
These guidelines complement the BBC's Conflict of Interest guidelines.
Editorial Policy can give advice on these Guidelines.
Guidelines For Bloggers
If you already have a personal blog or website which indicates in any way that you work at the BBC you should tell your manager.
Ya, y decirle cuál es tu nick, me imagino. ¿O sólo informarle de que tienes un blog con seudónimo-- y que ese seudónimo anónimo va a seguir las reglas de la empresa? Los blogguers que no confiesen están ya rompiendo una norma de la empresa.
If you want to start blogging, and your blog/website will say that you work for the BBC you should tell your manager.
If your blog makes it clear that you work for the BBC, it should include a simple and visible disclaimer such as "these are my personal views and not those of the BBC".
Igual debería yo poner un disclaimer: "estas son mis opiniones y no las de la Universidad de Zaragoza"? ¿O sería, en este caso, ridículo? Quizá pronto tengamos normativa propia específica para blogguers. De momento parece que hay hay una nueva Jefa de Gabinete de Comunicación nombrada para asuntos de la web e imagen corporativa de la Universidad.
Unless there are specific concerns about the nature of your job, you are free to talk about BBC programmes and content on your blog. Consult your manager if in any doubt.
Don't reveal confidential information. This might include aspects of BBC policy or details of internal BBC discussions. Again, consult your manager if you are unclear about what might be confidential.
En la normativa sobre uso de la web de nuestra universidad ya se encomendaba un papel parecido al Director del Departamento.
You should not use your blogs to attack or abuse colleagues. You should respect the privacy and the feelings of others. Remember that if you break the law on your blog (for example by posting something defamatory), you will be personally responsible.
Hm. "Attack or abuse". Y si se describen las acciones de los colegas, y eso arroja una luz desfavorable sobre ellos, ¿es eso un ataque? ¿Puede disentirse de los colegas? ¿Puede expresarse esa disensión. . . educadamente? Como siempre, aquí no puede haber límites nítidos. Lo que para uno es un ataque, para otro es una descripción de los hechos. Que decida el manager. Con lo cual tu blog personal pasa a ser un blog de empresa.
If you think something on your blog or website gives rise to concerns about a conflict of interest and in particular concerns about impartiality or confidentiality this must be discussed with your manager.
If someone offers to pay you for blogging this could constitute a conflict of interest and you must consult your manager.
If someone from the media or press contacts you about posts on your blog that relate to the BBC you should talk to your manager before responding. The relevant BBC press office must be consulted.
El resultado neto parece ser someter a filtración los blogs personales, de manera que sólo aquellas cuestiones neutras o favorables a la empresa salgan a la luz… como era de esperar, se intenta transformar los blogs personales en blogs sometidos al control de la empresa y que bajo la apariencia de expresión libre, están ofreciendo sólo puntos de vista supervisados por la empresa. Y ojo, que no estamos hablando de las plataformas de blogging internas a la empresa, sino de cualquier blog que pueda tener un empleado en cualquier plataforma. Lógico: la empresa te pide que elijas bando. Si quieres bloguear, tiene que ser a favor de la empresa. Si no, no eres un trabajador que le interese tener.
You are allowed to update your personal blog from a BBC computer at work, under the BBC's Acceptable Use Policy.
Corolario que se sigue de lo anterior. Tu blog es un blog de empresa, por tanto qué menos que la empresa te deje actualizarlo in situ.
Guidelines For Managers
Under these guidelines managers in each area will decide what is appropriate. They should not adopt an unnecessarily restrictive approach. Managers should ensure that any special instructions on blogging are reasonable and explained clearly to staff.
Y son tribunales de última apelación. Simpol.
Managers should bear in mind concerns about impartiality, confidentiality, conflicts of interest or commercial sensitivity. In some cases individuals may be dealing with matters which are so sensitive that rules may have to be set on what they can and cannot talk about on their personal blog.
¿Reglas sobre nombres explícitos, datos, etc., quizá? ¿O sobre temas que son por definición off limits? Las reglas así de vagas son flexibles, desde luego. Y los managers son libres de ponerlas.
Those involved in editorial or production areas must take particular care to ensure that they do not undermine the integrity or impartiality of the BBC or its output on their blogs. For example those involved in factual areas should not advocate a particular position on high profile controversial subjects relevant to their areas.
Todos presentadores de televisión, vaya. Aunque sería concebible lo contrario, precisamente como indicador de contraste, para medir la objetividad de presentación de la información en los ámbitos que sí presentan el punto de vista de la BBC. ¿Igual es que se verían demasiado algunos plumeros, y quedaría la objetividad del medio en entredicho?
Managers can consult the BBC's Conflicts of Interest Guidelines and the BBC's Acceptable Use Policy For Internet and Email.
News and Current Affairs
Impartiality is a particular concern for those working in news and current affairs. Nothing should appear on their personal blogs which undermines the integrity or impartiality of the BBC. For example, news and current affairs people should not:
· advocate support for a particular political party
- Vaya, y pueden opinar sobre cuestiones que sí se sabe dividen a los partidos? Porque si no, no sé para qué van a tener un blog.
· express views for or against any policy which is a matter of current party political debate
- ¿Pueden opinar sobre esta normativa, por ejemplo? Supongo que tampoco, estrictamente hablando. Pero ya les han dicho que no sean estrictos…
· advocate any particular position on an issue of current public controversy or debate
- Lo que decía. No blogueen ustedes, y si bloguean, no digan que son de la BBC, y si lo dicen, no firmen con su nombre, y si firman, no opinen sobre nada.
If news and current affairs people are in doubt they should refer immediately to their line manager.
Yo les aconsejaría a los blogueros esperar a que las dudas le entren al manager.
If news and current affairs people are asked to blog for commercial gain this could constitute a conflict of interest. Managers should consult the Off Air Activities Guidance Note for News and Current Affairs Presenters and Editorial Staff in BBC News, BBC Nations and Regions and BBC Global News.
01/02/05
Y si fuese el manager (que luego depende de otro manager) utilizaría mis poderes extraordinarios para curarme en salud sacando una regla bien simple: NO BLOGGERS ALLOWED! En la empresa, todos chinos. Y fuera de ella también, claro, eso es lo más escalofriante de esta commonsensical normativa.

Lo más gracioso es que dicen que fueron los empleados los que hicieron estas normas conjuntamente en un wiki puesto por la empresa. Lo que no dicen es quién fue el último que editó el wiki antes de darle el visto bueno oficial. Pero puede adivinarse, ¿no?